Welcome to CarnarvonSpace
This site celebrates Western Australia's role in Space research and, in particular, Carnarvon's critical role supporting NASA's Gemini, Apollo and Skylab projects. The companion book, "Carnarvon and Apollo: One giant leap for a small Australian town ", published by Rosenberg Publishing, may be available by order through Carnarvon's Space & Technology Museum or its Tourist Information Centre. Please contact them directly regarding any orders.
Margaret Medcalf Award 2011 - Special Commendation
"This work links Western Australian social history to the international history of science and technology in a highly readable way. Its lively exploration of Carnarvon's critical role in support of NASA space missions reminds us that history in living memory is no less surprising than the events of long ago. The use of maps, cartoons, photographs and personal reminiscences enhance the appeal of an intriguing story."


LOS - Paul Dench
Paul Dench, this site's creator, passed away in June 2020. To find out more about his life and career, see the obituary to the right, published in the West Australian in September.
Contents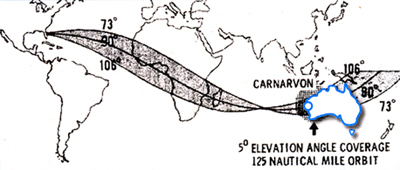 NASA's Carnarvon Space Tracking Station
OTC Satellite Earth Station Carnarvon
Carnarvon Space & Technology Museum
Related 'Carnarvon Tracking Station' web-sites
Terry Kierans's CROtrak at http://crotrak.com/

'Other Stations' on Colin Mackellar's http://www.honeysucklecreek.net
---
Email info@carnarvonspace.com . . . to contact site manager, Phil Dench (Paul's son)