FPQ-6 Radar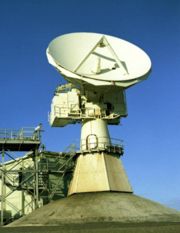 The AN-FPQ-6 Missile Precision Instrumentation Radar (MIPIR) built by Radio Corporation of America RCA)was the most precise radar in the world during the time it operated at Carnarvon. It was the only one in the Southern Hemisphere; consequently, it was called onto support almost everything that was launched from the USA.
The new radar's first track was of Echo-2 on 25 January 1964, a rigidized 30.5m passive communications sphere, ironically the beginning of a space communications revolution which was to lead to the eventual closure of the Carnarvon Space Tracking station Its second track on 29 January 1964 of SA-5, the first Saturn Apollo launch vehicle to orbit the Earth; preceded the first one for which it provided data; a 3-hour track of Ranger-6 on 30 January 1964 through trans-lunar injection (TLI).
Carnarvon FPQ-6 tracked virtually every day; such a huge number of diverse objects it is a pity that no record was kept. It supported the launch orbit of every satellite and spacecraft launched by any agency from the USA into a non-polar orbit. All passed within range of Carnarvon midway through the critical first orbit enabling the Carnarvon FPQ-6 to give the first sure indication that a good orbit would be achieved. The FPQ-6 gave prime support for all Manned Space Flight Network (MSFN) missions; for all Deep Space Network (DSN) missions through early orbit and injection into a trans-lunar or trans-planetary path; for all Satellite Tracking and Data Network (STADAN) particularly for those requiring insertion into highly eccentric orbits; for various communications satellites launched for Communications Satellite Corporation (COMSAT) and the 19-nation International Telecommunications Satellite Consortium (INTELSAT) particularly throughout their launch orbit and insertion into geosynchronous orbit within the Indian and Pacific regions; and for weather, oceanography, and earth resource satellites for the Environmental Science Services Administration (ESSA) and National Oceanic and Atmosphere Administration (NOAA).
It also provided tracking and orbit prediction support to a large number of US Department of Defense (DoD) Orbiting Vehicle (OV) satellites - usually individually by negotiation between the US and Australian governments to ensure the non-military status of NASA was being preserved. And it was known to skin-track some of the early Soviet spacecraft until it was instructed to desist for fear of alienating the USSR.
Any support FPQ-6 provided was secondary to its requirement to track all manned space flight passes over Carnarvon. But support for other satellites was not confined to early orbit definition and any critical transition phase. Beyond then it would regularly track satellites to redefine their orbital parameters. Ultimately it was involved in tracking them during their final orbits as they decayed to a fiery death on re-entry into the Earth's atmosphere.
Unique to the FPQ-6 was the way its computer was an integral part of the system. It could provide critical orbital parameters directly to the next radar along an orbital path so that it in turn could acquire and track independent of central network computer support.
An interesting aspect of the FPQ-6 radar teams around the tracking network, particularly Bermuda (BDA) and Carnarvon (CRO), was the way they interacted with each other. They became a close-knit group - almost a closed society - within a NASA team of many thousands; being exemplars of how an operational team could interact with the designers and manufacturers to improve the performance of their equipment.